For me, cooking is more than a chore, a means to an end or even a hobby. I must admit the influence of Zen here which has taught me that cooking is a personal spiritual act and that food is a part of the great cycle of life. That is why I recommend the use of fresh ingredients, the maintenance of an absolutely clean kitchen, the practice of cooking with whatever is on hand, of cooking frugally, of recycling leftovers and eliminating wastage.

This is cooking with respect, harmony, purity, and tranquility: cooking with love. Which is a redundancy, perhaps, for what else is cooking but a gesture of love?

Annie P. Guerrero,
Cooking with Love
Susana "Annie" P. Guerrero
Chairman Emeritus & The Founder
She is a legendary culinarian, as the country's only Certified Professional to be awarded the prestigious title by the International Association of Culinary Professionals.
Besides her passion for culinary, she is also an environmentalist as a fierce advocate of Zero Waste lifestyle the Filipino way: local and low-cost technology.
She continues to promote culinary education as the President and Founder of Culinary Education Foundation, a non-profit organization of CCA Manila.
Marinela "Badjie" Guerrero Trinidad
She is a businesswoman, with a strong educational foundation from UP Diliman, Asian Institute Management, Cornell University, Wharton Pennsylvania, IESE Barcelona, and CEIBS Shanghai.

She won the Mabuhay Gold Award in 2014 by Association of Human Resource Managers in the Hospitality Industry.  This is proof of her contributions as a restaurateur, hotelier and culinary school leader.

She continues to lead the CCA Manila team as they expand into several locations in Quezon City, BGC Taguig, and other key cities in the country. 
Dra. Veritas Luna
Chancellor for Education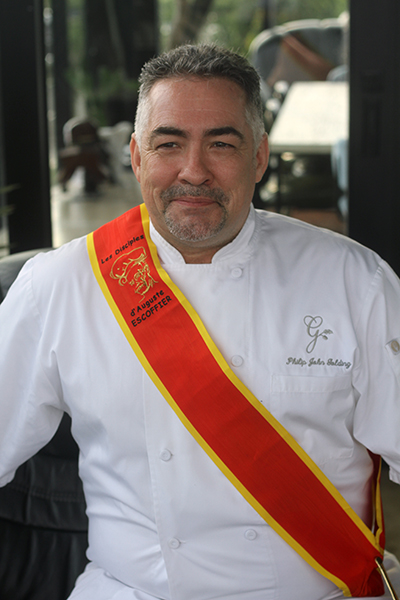 Chef Philip John Golding
Culinary Director
Chef Kerwin Funtanilla
Program Manager, Academic Department
Bea Trinidad
Storyteller & Digital Strategist
Marcela Gatbonton
Finance Manager
Marifi Canunayon
School Registrar
Rheine De Villa
Asst. Sales & Marketing Manager
Nadia Linga
Program Coordinator
Chef Jay Recio
Faculty In Charge CEP Department
Chef Angelo Guison
Chef Instructor
Chef Jr Bautista
Chef Instructor
Chef July Gaceta
Chef Instructor
Chef Krystle San Juan
Chef Instructor
Chef Maco Arao
Chef Instructor
Chef Miguel Lorino
Chef Instructor
Chef Ram Caronongan
Chef Instructor
Chef Rupert Carandang
Chef Instructor
Ma. Christina G. Aquino 
Chair, Tourism Industry Board  Foundation Inc.
Annabelle Ochoa
Former President of Tourism Industry Foundation, Inc.
John Martho C. Buenaventura
Executive Chef Hilton Abu Dhabi  Yas Island
Chef Migo Razon
Alumni, Executive Chef of Savoy  Hotel Melbourne Australia
Chef Myke "Tatung" Sarthou
Chef & Author; Head Chef at Chef Tatung Restaurant, Taguig
Chef Sau Del  Rosario
Executive Chef and Owner, Cafe  Fleur Manila
Chef Xandra Pauco
Proprietor and Executive Chef, Flaming Wings
Chef Maria Ysabelle G. Cruz-Bungabong
Senior Culinary Specialist, Century Pacific Food Inc
Chef Tristan Arenas Encarnacion
Group Executive Chef, Waterfront Hotel Cebu
Ryan David
Founder, Nacionale Baldeworks

Catherine B. Turvill
President & Co-Owner, Nurture Wellness Village
Randy Prado
CEO and Co-Founder, Republisys (USA, Australia, Philippines)
Dr. Mario Capanzana
Retired Director of the Food and Nutrition Research, DOST
Eligio P Santos, PhD
Vice Dean, School of Management & Program Director, Entrepreneurial Management
Felice Sta. Maria
Food Historian and Author
Dr. Patricia Azanza
Professor, UP Diliman
Zenaida F. Velasco
CEO & President, Nutrition & Emotional Wellness Center/ NDAP