Diploma in Culinary Arts & Technology Management
CCA's flagship course provides you with a solid foundation to become a culinary chef. Practical kitchen training is complemented with a comprehensive food service management training program which aims to develop your entrepreneurial and management competencies in handling an institutional or commercial kitchen.
Highlights of the Program
• Become a chef of the future through learning the technical knowledge such as knife skills, green chefmanship and so much more.
• Develop a foundation on entrepreneurial aspects in the F & B industry that are relevant to the state of the industry and its future direction.
• Undergo comprehensive & practical training through operations, business plans, student-led dinners, culinary tours, industry events, catering & functions.
• Understand regional Filipino cuisine and other international cuisines.
Course Curriculum
Level

Course

Units

1

ProMgt Professional Chef

ProMgt Food Safety and Sanitation

Green Chefmanship

Product Identification

Culinary Math

Mise en Place and Knife Skills

Meat & Fish Fabrication

1.5

2

3

2

2

2.75

2

Stocks, Soups, and Sauces

Starch and Vegetable Cookery

Cooking Methods

Restaurant Service Operations

3

2.5

3

2

3

Bread Baking

Business Communication 1.1

Business Communication 1.2

Patisserie

Food Presentation and Garnish

Basic Principles of Cooking and Nutrition

3.5

1.5

1.5

3.5

1.5

2

4

Garde Manger

Wine and Beverage

Breakfast, Lunch and Dinner Operations

3.5

2

3.5

5

Practicum

4

6

French Cuisine

French Language 1

European Cuisine

Laws, Values and Ethics in Culinary Management

National Service Training 1.1

3.5

4

3.5

3

-1.5

7

American Cuisine

National Service Training 1.2

Asian Cuisine

National Service Training 2.1

3.5

-1.5

3.5

-1.5

8

Filipino Cuisine

National Service Training 2.2

Catering and Banqueting

3.5

-1.5

4.5

9

Competency Exam

Material Resource Management

Human Resource Management

Sales, Marketing and Promotion

Cost Control

1.5

3

3

3

3

10

Apprenticeship

8

Total Number of Units

100.75
Duration: 10 levels in 2 years
Date of Intakes:
April 17, 2023
June 05, 2023
Campus: BGC, Taguig City
Accreditation: TESDA
Culinary Path:
Graduates of this program may initially serve as line cooks or chefs de partie in distinguished establishments. Eventually, the career paths would lead to being a corporate chef, catering chef, restauranteur, R&D chef, to name just a few.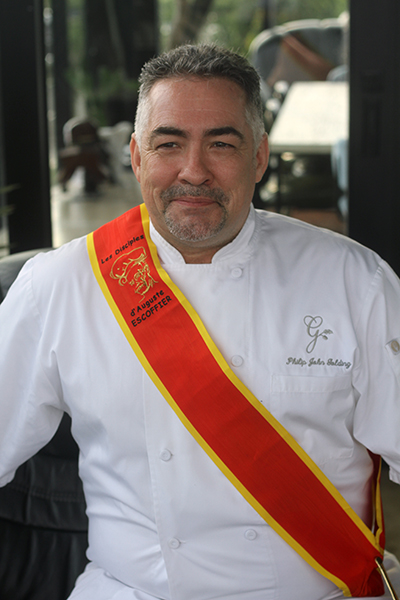 "This program is about building the chefs of the future from highlighting strong foundational knowledge, green chefmanship and taking pride in their own cuisine. We arm our students with confidence, knowledge and humility to battle the prosperous field of culinary arts. It is our commitment as a team to fulfill as many culinary dreams as we can."

Happy cooking,
Chef Philip John Golding
Program Director
philip.golding@cca-manila.edu.ph
"My family sent me to Manila to study culinary. What my CCA family taught me was to conquer the world with my cuisine."
"I researched for schools until I came across CCA Manila. And, I saw a couple of chefs that graduated from there. So I figured that they must have a good curriculum. That is why I decided to go down that path. It was one of the best decisions I have ever made. It gave you the basics. It gave you the confidence that you would go into any kitchen and if someone asked you to do this, you would immediately recognize what it is because of the teachings that were done in school."
"A lot of my core values and knowledge as a chef and most especially, my love for food, comes from my two years of studying at CCA, Manila. I learned how to persevere in my chosen career and to never give up when faced with tough challenges. Since learning is a never-ending process, there's always something new to discover so I should never stop researching, honing my craft and innovating in the kitchen."
Wanna share your CCA experience? Be the first one to write one.